Industrial Ethernet
Solutions
Featured White Paper

RingOpen Redundancy (ROR):Our patent-pending RingOpenTM Redundancy technology has equipped Henrich's .……

RingOn Redundancy:RingOn redundant recovery technology has been deployed in all Henrich's layer 2 and layer 3 industrial ……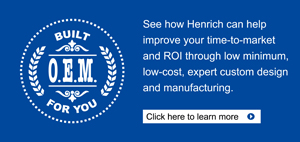 Windup™ 2.4G/5G Industrial Wireless Outdoor AP
HMMJE342 Series
IEEE 802.11a/b/g/n compliant
Atheros 560MHz Networking Processor
2.4G/5G concurrent radios,each with 26dBm aggregate power
Up to 300Mbps physical data rates per radio
Built-in 17dBi@5GHz dual-polarization antenna and
2 x 7dBi@2.4G Omni Dipole array antenna
Antenna Alignment Site Survey - LEDs/Buzzer
Distance Adjustment for long range transmission
Integrated Power-over-Ethernet
2 x RP-SMA Male Connector for External Antenna (optional)
HMMJE342 is a high-performance Outdoor Access Point with integrated PoE. Using Qualcomm Atheros QCA9342 (560MHz)Processor, HMMJE supports high-speed data transmission up to 300Mbps. MMJ342 is embedded with an integrated directional dual-polarization (vertical and horizontal) antenna supporting 5GHz (17dBi). The type of the antenna depends upon the order configuration.

Dual-polarization antenna provides good diversity coverage and better noise immunity. It has been integrated by high power radio to achieve longer range and higher throughput. The device is powerful, easy to handle, and also used in implementation over long distance by wireless ISP.
System Information
Processor
Qualcomm-Atheros AR9342
Memory Size
64MB DDR2
NOR Flash
16MB
PCIe Slot
9.2mm height miniPCIe slot
Antenna Connector
2 x U.FL
Ethernet
2 FE ports with Auto-MDI/X
Power Solution
Passive PoE
Power Consumption
7.5w
RoHS Compliant
Yes
Humidity
Operating: 5% to 95% (non-condensing)
Storage: Max.90% (non-condensing)
Temperature Range
Operating:-20°C to 70°C
Storage: -40°C to 90°C
Dimensions (H x W x D)
278.5 x 122.2 x 94.5 (mm)
Max of concurrent associations
Encryption
WPA2-PSK
Client Latency
<100ms
TCP Latency [each client upload and download randomly from 384Kbps to 768Kbps]
Single radio: 40 clients
Dual radio: 70clients (35 per radio)
UDP [each client upload and download 2Mbps]
Single radio: 20 clients
Dual radio: 30clients (15 per radio)
Transmit Power & Receiver Sensitivity
5G On-board Radio
Transmit Power
Frequency Data Rate 5GHz (aggregate)
5180MHz 6Mbps 24dBm
54Mbps 20dBm
HT20 MCS0 23dBm
HT20 MCS7 18dBm
HT40 MCS0 23dBm
HT40 MCS7 18dBm
5500MHz 6Mbps 25dBm
54Mbps 20dBm
HT20 MCS0 25dBm
HT20 MCS7 19dBm
HT40 MCS0 24dBm
HT40 MCS7 19dBm
5785MHz 6Mbps 26dBm
54Mbps 21dBm
HT20 MCS0 25dBm
HT20 MCS7 19dBm
HT40 MCS0 24dBm
HT40 MCS7 19dBm

Receiver Sensitivity
Data Rate 5GHz
6Mbps -90dBm
54Mbps -75dBm
HT20 MCS0 -90dBm
HT20 MCS7 -72dBm
HT40 MCS0 -88dBm
HT40 MCS7 -70dBm

WLE200N2-23 PCIe Mini Card
TX SPECIFICATIONS
802.11b
Data Rate  TX Power (per chain) TX Power (2 chains)
11Mbps 23dBm 26dBm
5.5Mbps 23dBm 26dBm
2Mbps 23dBm 26dBm
1Mbps 23dBm 26dBm

802.11g
Data Rate  TX Power (per chain) TX Power (2 chains)
6~24Mbps 23dBm ±2dB
36Mbps 22dBm ±2dB
48Mbps 20dBm ±2dB
54Mbps 19dBm ±2dB

2.4GHz
11n
HT20
Data Rate  TX Power (per chain) TX Power (2 chains)
MCS0 23dBm 26dBm
MCS1 23dBm 26dBm
MCS2 23dBm 26dBm
MCS3 22dBm 25dBm
MCS4 21dBm 24dBm
MCS5 20dBm 23dBm
MCS6 19dBm 22dBm
MCS7 18dBm 21dBm

2.4GHz
11n
HT40
Data Rate  TX Power (per chain) TX Power (2 chains)
MCS0 23dBm ±2dB
MCS1 23dBm ±2dB
MCS2 23dBm ±2dB
MCS3 22dBm ±2dB
MCS4 21dBm ±2dB
MCS5 20dBm ±2dB
MCS6 19dBm ±2dB
MCS7 18dBm ±2dB

RX SPECIFICATIONS
802.11b
Data Rate  Sensitivity (2 chains)
6Mbps -96dBm
9Mbps -96dBm
12Mbps -95dBm
18Mbps -93dBm

802.11g
Data Rate  Sensitivity (2 chains) Tolerance
24Mbps -90dBm ±2dB
36Mbps -87dBm ±2dB
48Mbps -83dBm ±2dB
54Mbps -81dBm ±2dB

2.4GHz
11n
HT20
Data Rate  Sensitivity (2 chains)
MCS0 -96dBm
MCS1 -94dBm
MCS2 -91dBm
MCS3 -87dBm
MCS4 -85dBm
MCS5 -82dBm
MCS6 -81dBm
MCS7 -79dBm

2.4GHz
11n
HT40
Data Rate  Sensitivity (2 chains) Tolerance
MCS0 -92dBm ±2dB
MCS1 -90dBm ±2dB
MCS2 -87dBm ±2dB
MCS3 -86dBm ±2dB
MCS4 -84dBm ±2dB
MCS5 -82dBm ±2dB
MCS6 -81dBm ±2dB
MCS7 -77dBm ±2dB

Firmware Features
1.Multiple SSID
Supports up to 16 virtual access points (VAP) per radio, with unique BSSID. Each VAP can configure their own security

2.Long Range Support
Suitable for long range wireless deployment with Proprietary Long Distance Algorithm for ACK and CTS timeout adjustment support.
Provides recommended values for the parameters as well as allow for manual fine-tuning for optimal performance.

3.Selectable Spectrum Bandwidth Support
Options to select operation over 20MHz and 40MHz spectrum bandwidth
Firmware Information
Operating Modes
• Access Points
• Station
• Station WDS
• Repeater WDS
• Wireless Adapter
• Access Point + Router
• Station + Router
WAN Type
• Static IP
• Dynamic IP
• PPPoE
• DHCP
Device Management
• HTTP / HTTPs Web Server
• SNMP V3
• Telnet / Secure Shell (SSH)
Data Capture & Notification
• System Log
• Kernel Log

Advanced Features
• Built-in DHCP server
• Transmission Power Control (One dB per step)
• Closed System (Suppress SSID)
• Transmission Rate Control
• Spanning Tree Protocol

Other Prominent Features
Description
Long Range Parameter Settings
Suitable for Long Range wireless deployment with high receiver sensitivity
CPE Point-to-Point (PtP)
Ideal as CPE device connecting PtP with a central AP
IEEE 802.11h (DFS & TPC)
Enables worldwide operation through support for standards-based Dynamic
Frequency Selection (DFS) and Transmission Power Control (TPC)
SNMP
For multiple SSID, firmware upgrades. Easy for customers to integrate with SNMP-based controller
Signal Strength LEDs Indicators
4 Step Progressive Bars. Each bar represents a progressive increase in Signal strength, with 4 bars representing maximum signal strength (100%)
VLAN Management
Can manage the AP through VLAN ID
VLAN Ethernet Trunk
Map VLAN IDs to multiple SSID
Chillispot (Hotspot)
Can use with/without Radius Server
OpenWRT-derived
Easy to add in features from OpenWRT
Customization (with SDK)
Customers can add in packages of OpenWRT, and also modify webpages on their own, with SDK upon approval
7dBi@2.4G Omni Dipole array antenna
Frequency (GHz)
2.42GHz
2.45GHz
2.48GHz
Peak Gain (dBi)*
6.124dBi
6.284dBi
7.958dBi
Peak gain refers to the maximum gain value in the azimuth plane.
Please note that the nulls occurring at around 165 and 195 is most probably due to the cable effects. Excluding these nulls, typical gain variation is around 3-4 dB.
17dBi@5GHz dual-polarization antenna
Gain
17dBi
Radiation
Directional
Frequency Range
5.5-5.9 GHz
Polarization
Dual – Polarization
Azimuth -3dB Beamwidth
Horizontal(Port 1): 30 degrees
Vertical(Port 2): 33degrees
Elevation -3dB Beamwidth
Horizontal(Port 1): 17 degrees
Vertical(Port 2): 17degrees
Isolation
-40dB (Max)
Front-to-Back Ratio
-30dB (Max)
VSWR
Horizontal (Port 1) : < 1: 1.87; Vertical (Port 2): < 1: 1.55
Cross Polarisation Isolation
-28dB (Max)
SideLobe
<-12dB
Gain Plot
Return Loss & Isolation Plot
Polar Plots (At 5.6GHz)
| | |
| --- | --- |
| H-Pol Azimuth (Port 1 - H) | |
| H-Pol Elevation (Port 2 – V) | |
| V-Pol Azimuth (Port 2 – V) | |
| V- Pol Elevation (Port 1 – H) | |
Warranty
Model No.
Description
Price
HMMJE342LV-US
Integrated Antenna: 2x7dBi@2.4G & 17dBi@5GHz
Radio Output: 26dBm
Quote
HMMJE342LV-EU
Integrated Antenna: 2x7dBi@2.4G & 17dBi@5GHz
Radio Output: 26dBm
Quote