Industrial Ethernet
Solutions
Featured White Paper

RingOpen Redundancy (ROR):Our patent-pending RingOpenTM Redundancy technology has equipped Henrich's .……

RingOn Redundancy:RingOn redundant recovery technology has been deployed in all Henrich's layer 2 and layer 3 industrial ……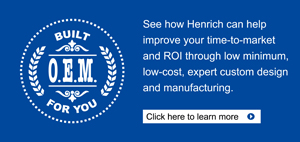 SFP-S53-20-W Series
Single + 3.3 V power Supply
Small From Factor Pluggable MSA Compliant.
Differential Inputs and Output
Compliant with IEEE-802.3 & SONET/SDH Standard
Class 1 Laser International Safety Standard IEC 825 Compliant
Compliant with EN60825-1 and FDA 21 CFR 1040.10 and 1040.11
Bi-directional Linking Distance Up to 20 km
Industrial Operation Temp.: -40℃ to +85 ℃
Details
Specs
Models
Downloads
SFP-S53-20-W Series
The transceiver from Henrich is small form factor pluggable module for serial optical data Communications applications specify of SONET OC-3 / SDH STM-1 / IEEE 802.3u. This module is designed for single mode fiber with cost effective and high performance by using TX1510nm and RX1310nm. It is with the SFP 20-pin connector to allow hot plug capability.
Absolute Maximum Ratings
| | |
| --- | --- |
| Supply Voltage | 0~4V |
| Storage Temperature | -40 to +85˚C |
| Operating Temperature | -40 to +85˚C |
General Specifications
Data Rate
Typ: 155Mbps
Supported Link Length
on 9/125μm MMF
20Km
Transmitter Electrical Characteristics
| | |
| --- | --- |
| Supply Voltage | 3.15 to 3.45V, Typ: 3.3V |
| Data Differential Input Voltage | 400 to 2000mV |
| Disable Input Voltage | -1.81 to -1.48V |
| Enable Input Voltage | -1.16 to -0.88V |
Transmitter Optical Characteristics
Output Optical Power
on 9μm SMF
-15 to -5dBm
Center Wavelength
1510 to 1570nm, Typ: 1550nm

Spectral Width (RMS)
Type: 2nm
Optical Rise Time (20%-80%)
Max: 2ns
Optical Fall Time (20%-80%)
Max: 2ns
Extinction Ratio
Min:8.2dB
Receiver Electrical Characteristics
Supply Voltage
3.15 to 3.45V, type:3.3V
Data Differential Output Voltage
500 to 1200mV

Data Output Rise Time (20%-80%)
Max: 2ns
Data Output Fall Time (20%-80%)
Max: 2ns
Receiver Optical Characteristics
| | |
| --- | --- |
| Maximum Receiver Power | Min: -3dBm |
| Receiver Sensitivity | Max: -32dBm |
| Operating Wavelength | 1250 to 1380nm |
| Signal Detect-Asserted | Max: -32dBm avg. |
| Signal Detect-Deasserted | Min: -46dBm avg. |
| Signal Detect-Hysteresis | Min: 0.5dB |
Model No.
Description
Price
SFP-S53-20-W
Single-Mode Fiber Port with LC Connector, 20KM, TX1550nm,RX1310nm, 155Mbps
Industrial Wide Temperature: -40°C to +85°C.
Quote